Minutes of the Sorghum and Millet Crop Germplasm Committee – March 28
SorghumBase Team
12 May 2022
The Sorghum and Millet Crop Germplasm Committee (CGC) met on March 28, 2022, during the SICNA conference, at The Hyatt Regency in Dallas, Texas. Chairman Hugo Cuevas convened the meeting, which included 22 members and visitors, Jeff Dahlberg, Peter Bretting, Gary Kinard and Stephanie Green, who participated virtually. Copies of most recent and past Sorghum & Millet  CGC meeting notes are available from GRIN Cropper Germplasm Committee page.  https://www.ars-grin.gov/CGC.  
Cuevas began the meeting by giving a presentation on the roles and responsibilities of the Committee. He proposed a virtual meeting between each SICNA meeting. A presentation was also given by Peter Bretting (National Program Staff) on the National Plant Germplasm Systems (NPGS).The important work of the NPGS is focused on acquisitions, maintenance, regeneration, distribution, and documentation and data management. Stephanie Greene, from the National Laboratory for Genetic Resource Preservation (NLGRP) provided a report of the sorghum and millet germplasm that is still in pre-quarantine. 104 accessions of pearl millet, 279 accessions of finger millet, 6 accessions of proso millet and 73 accessions of sorghum remain in pre-quarantine awaiting permission from Animal and Plant Health Inspection Service (APHIS) before being regenerated and evaluated at St. Croix. They will be available to the research community after APHIS gives final approval on the germplasm. 
Chairman Cuevas presented Melanie Harrison's report on the sorghum and S9 millet germplasm. Harrison, a sorghum germplasm curator at USDA-ARS, Griffin, GA, stated that 92% of the sorghum germplasm and 95% of the S9 millet germplasm are available. Additionally, 94% of the sorghum and 99% of the millet collections are backed up at Fort Collins, Colorado. Foreign non-commercial organizations and researchers from U.S state agencies and universities constitute the majority of germplasm requests. The ten recombinant inbred nested association mapping (NAM) lines are available for distribution. However, it was noted that the seeds are stored at 4 degrees centigrade and regeneration is the responsibility of those receiving the seed. Some accessions of the highly requested sorghum association panel (SAP) have become depleted. Melanie Harrison will coordinate periodic replenishment of the SAP. Dr. Richard Boyles will provide seeds to regenerate the panel and offset the current depletion. Bill Rooney and Chad Hayes also offered to grow the SAP for their re-generation. The committee encouraged supporting the NPGS germplasm program by using GRIN-Global to upload accession level data from published studies.
"I want to thank everyone who attended the meeting. This was a highly successful meeting, with active discussions and suggestions we will continue developing over the next year.  I am glad that we were able to meet after being distant for a few years due to the pandemic. Looking forward to a virtual meeting next year for more suggestions and to show you the progress that has been made." – Hugo Cuevas
Doreen Ware, from the USDA-ARS and Cold Spring Harbor Laboratory, updated the committee on SorghumBase. SorghumBase, first released in 2021, is currently on its third release which includes 13 sorghum genome references of both cultivated sorghum and wild relatives. Genetic variation for 499 sorghum accessions, including 13 million naturally occurring SNPs, are presented on the BTx623 genome browser. Reference sorghum genomes and seven other species, including maize and rice, were used to construct the gene trees, supporting the transfer of functional information across species. 
An additional discussion during the meeting was the need to develop standards standard phenotyping datasets for the core community germplasm collections, potential candidates discussed were NAM and SAP populations. Jeff Dalberg proposed the continued use of sorghum descriptors for standard germplasm phenotyping. A follow-up suggestion was made to limit the phenotyping characterization to five traits of high heritability and breeding value as a potential initial target.
The NPGS sorghum germplasm collection, which is of tropical origin, is limited by its photoperiod sensitivity. It is a large collection and it is not possible to adapt the entire collection to temperate adapted regions. Jeff Dahlberg thought genome editing (CRISPR), which may shortly be able to be used, could be an option going forward.  Bill Rooney noted that the most valuable germplasm in the collection could be identified using genomic prediction. Another discussion point during the meeting, was the need for a community sorghum marker panel, and potential commercial   provider for genotyping services for the sorghum community as a whole might reduce costs.  Outcomes of the discussion were a recommendation to form a sub-committee in charge of developing a community marker panel for breeding programs and germplasm characterization.  Individuals interested in participation to the working group should contact Doreen Ware.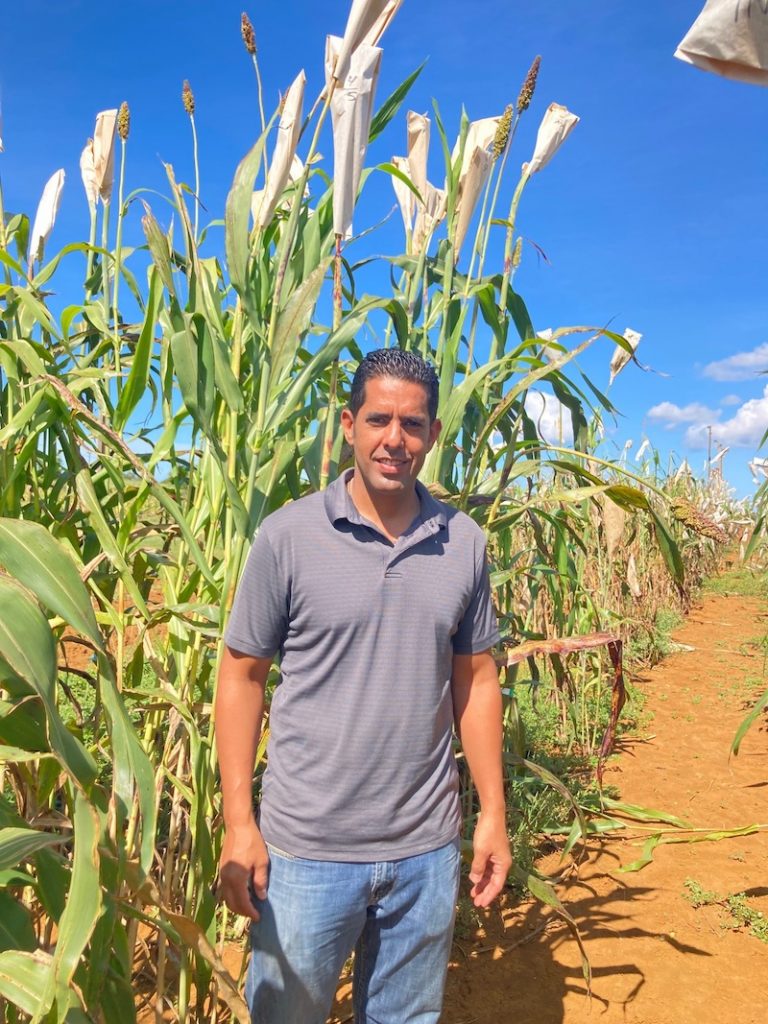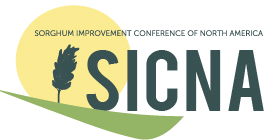 ---